How Can I Buy Crypto with TD Bank Canada?
You've sent Interac e-Transfers before from your TD Canada Trust account within your online banking when sending money to friends, family or to pay bills and other daily expenses.
But did you know that you can buy Bitcoin using e-Transfer to add money to your MyBTC.ca account balance? Interac e-Transfer is Canada's most popular payment method to buy Bitcoin and Ether because it's fast, easy and reliable.
Let's go through the steps together and send an Interac e-Transfer from your TD online banking so can make future funding faster and easier:
Step 1: Already a verified MyBTC.ca client? All good, please proceed to Step 2.
If you're not a MyBTC.ca client, please create your account and complete identity verification on this section of our site: MyBTC.ca/verification. Once your MyBTC.ca identity verification is complete, proceed to Step 2.
Step 2: Navigate to the TD Canada Trust EasyWeb Login to access your TD online banking and enter your Username or Access Card and Password and click the green "Login" button as shown on the page below:
Step 3: You will be directed to your "Accounts" page that overviews your accounts. Now navigate to "Interac e-Transfer" from the menu on the left side of your screen:
Step 4: You will then be directed to the "Interac e-Transfer - Send Money" page. Select the account you'd like to send money from and the amount you want to send. Now press the "Add New" button on the right hand side of your screen: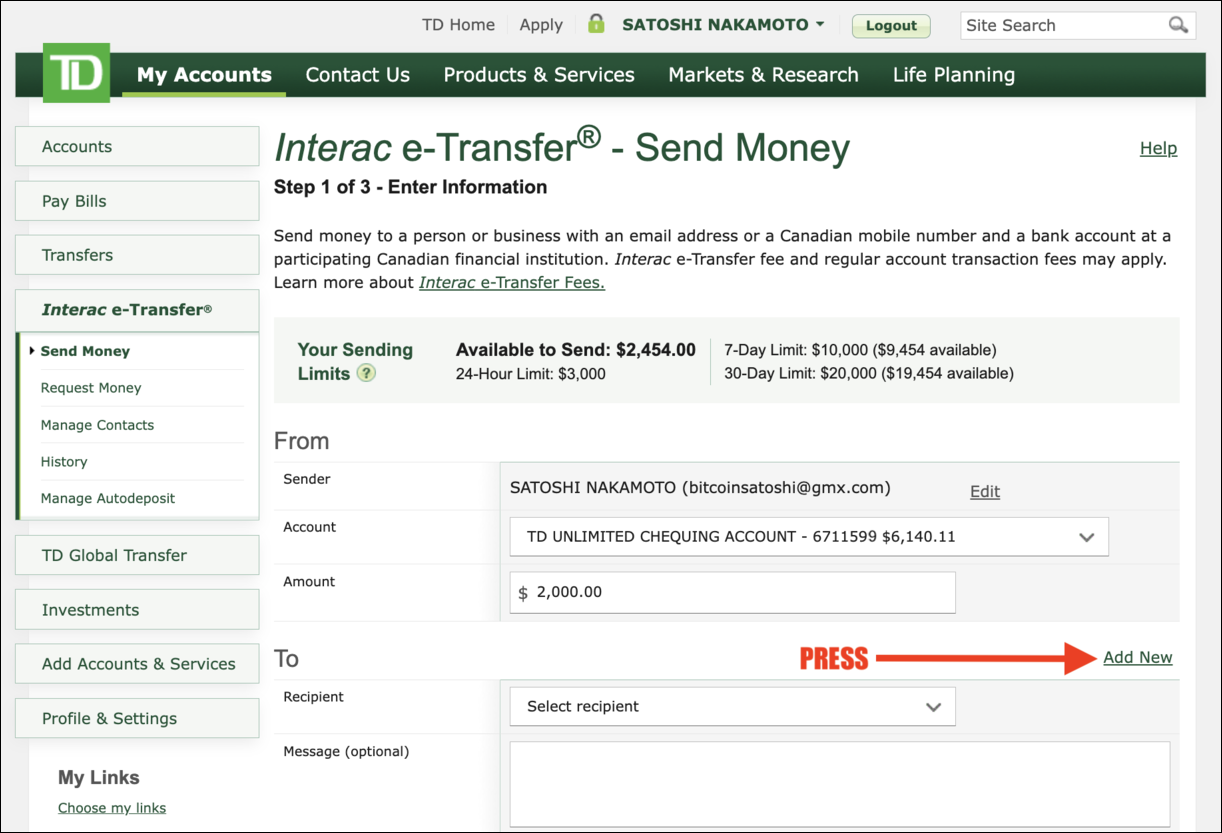 Step 5: Great! Now open a new tab or toggle over to MyBTC.ca/fund where you will then press the red "View Instructions" button for the Interac e-Transfer payment method listed.
Step 6: You will be presented the details needed to copy and paste into the "Interac e-Transfer - Add Contact" page within your TD online banking.
Step 7: Use the clipboard provided to ensure you copy and paste the Recipient Name and Recipient Email into the appropriate fields and press the red "Add" button. Note: You will see the message below once the detail has been successfully copied to your clipboard:
Step 8: Now review the details and press the red "Send Money" button on the screen below:
Step 9: Using the Security Question and Answer provided within the MyBTC.ca e-Transfer Instructions, copy and paste them into the appropriate fields on the recipient page and press the red "Next" button as displayed below:
Step 10: Now verify the information to ensure it's correct and press the red "Send Money" button:
Step 11: Fantastic! You've now sent your Interac e-Transfer to MyBTC.ca and you will be presented with the confirmation page below:
Step 12: Processing times vary depending on the account so your Interac e-Transfer will either arrive instantly or in exactly 30 minutes. Please allow for 10-15 additional minutes for our system to process the Interac e-Transfer transaction.
Step 13: You will receive an email notification in your inbox the moment your MyBTC.ca balance has been updated and populated with your funds. Press the red highlighted "balance" link to be taken directly to the MyBTC.ca/fund page so you can complete your order for BTC or ETH.
Published: 2023-04-25
---
---
---
---
I Want My Bitcoin!
Click a payment method to start your order.